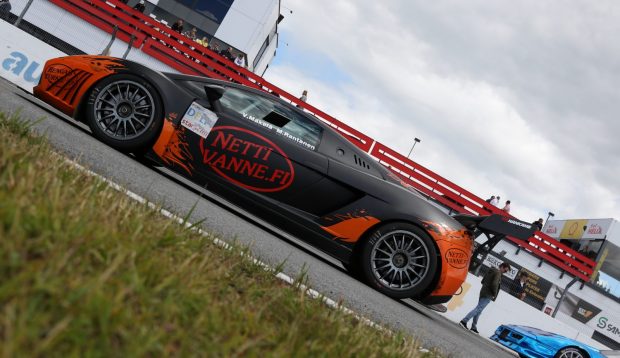 BALTIC TOURING CAR CHAMPIONS WILL BE NAMED IN ESTONIA
At the coming weekend from September 22 to 23 Parnu will welcome the final round of Baltic Touring Car Championship which will clear the new champions of season 2018 in several classes. To the Baltic's fastest racers in the track will join also NEZ BMW Xtreme class participants.
Saturday, September 22, races will start at 2 pm with NEZ BMW Xtreme class and after them we will see BEC4H teams where the biggest battle to win overall title will be between two Lithuanian teams – Rotoma Racing and GSR Motorsport. First day will close BMW Xtreme class with second race.
Sunday will be loud and fast when first champion titles will be split between BMW Xtreme class participants. Next on racetrack will go Baltic Touring Car class with 18 participants. Before last round Marko Rantanen leads Baltic GT class, in second place is Roberts Rode from Latvia and third position to Vytenis Gulbinas. BTC1 class first place holds unstopable Peeter Peek from Estonia, second place owns last season's champion Andrey Yushin and third – Andrey Ermolov. Ernesta Globyte leads BTC2/TCR class, leaving behind Jyrki Jonkkari and Indre Senkute-Gedgaudiene.
Champions will be knowned also in Hankook Trophy S1600 class where after five rounds the leader is Dmitry Savateev, second place to Reinis Trūps and third to Steven Puust.
In their second race will go also ABC Race prticipants and historic car series "Dzintara aplis" with Volga and VAZ class participants. In both VAZ classes champions are already clear but for Volga class for champion title will compete season leader Ervīns Kreicbergs and Aleksandrs Čuhrovs.
The first day – September 22 – will be LIVE on Facebook page Baltic Touring Car Championship and on our website.
Timetable for both race days:
Saturday, September 22
12:25-12:35 BMW Qualification 1
12:45-13:05 BEC4H Qualification
13:10-13:20 BMW Qualification 2
14:00-14:25 BMW Race 1
15:00-19:00 BEC4H Race
19:15-19:40 BMW Race 2
20:00 Award ceremony
Sunday, September 23
Qualification
11:30-11:40 Volga
11:45-11:55 VAZ
12:00-12:10 BTC+S1600
12:40-13:30 BMW Race 3
Race 1
13:40-14:05 Baltic Touring Car+Super1600
14:15-14:40 ABC
14:50-15:15 Volga
15:25-15:50 VAZ
Race 2
16:00-16:25 Baltic Touring Car+Super1600
16:35-17:00 ABC
17:10-17:35 Volga
17:45-18:10 VAZ
18:30 Award ceremony
Event sponsor "Hankook", official car from "Auto Blitz", media partners "Delfi", radio "Star FM", magazine "Klubs", support "Latvijas autošosejas federācija", "Jacob's Creek", "Mangaļi".