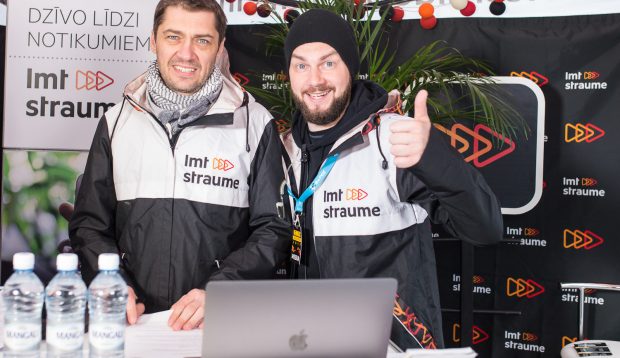 LIVESTREAM FROM RIGA SUMMER RACE IN BIKERNIEKI RACETRACK
This weekend on August 18th and 19th Bikernieki racetrack welcomes "Riga Summer Race". Livestream from racertack will be available on mobile app LMT Straume, web page straume.lmt.lv, free TV channel Sportacentrs TV as well as in Lithuanian news portal 15min.lt and Latvian news portal Delfi.lv.
Saturday's Livestream will start from 1:45 p.m. Livestream will show all up and down's of NEZ6H Endurance race from 2 p.m. to 8 p.m. Six hours full of exciting battles with time, technique and competitors.
Sunday, August 19th we will see the most extensive number of classes. Livestream from Bikernieki racetrack will start from 12:10 p.m. with studio and will continue with the first race on 12:20 p.m.
At Livestream studio will visit participants and guests to share their first impressions and emotions throughout the day with commentator Artūrs Virbulis. On the track the participants will interview Oskars Kaņeps-Kalniņš.
Livestream Day 1 in LMT Straume find HERE.
Livestream Day 2 in LMT Straume find HERE.
Tickets for Baltic Touring Car festival "Riga Summer Race" are available at www.bilesuserviss.lv. Ticket price for both race days in pre-sales is 7 Eur (until August 17th), at the racing days – 10 EUR. Free entrance for children under 12, people with disabilities and seniors.
"Riga Summer Race" general sponsor: "Dzērieni bez uzcenojuma", sponsors "Fremax", "Hankook", media partners "Delfi", magazine "Klubs", radio "StarFM", support "Latvijas automobiļu federācija", "Jacob's Creek", "GRIFS AG", "Mangaļi" and "Lux Express". Live stream provides "LMT Straume".
LIVESTREAM TIMETABLE:
Saturday, August 18th
1:45 p.m. – Live stream studio
14:00 p.m. – North European zone 6H Championship race
20:10 p.m. – Awards ceremony
Sunday, August 19th
12:10 p.m. – Live stream studio
12:20 p.m. – ABC Race Race 1
12:55 p.m. – Baltic Touring Cars Race 1
1:30 p.m. – VAZ Race 1
2:10 p.m. – Formula Historic Race 1
2:50 p.m. – Volga Race 1
3:30 p.m. – Hankook Trophy Race 1
4:10 p.m. – Baltic Touring Cars Race 2
4:50 p.m. – ABC Race Race 2
5:25 p.m. – VAZ Race 2
6:00 p.m. – Formula Historic Race 2
6:35 p.m. – Volga Race 2
7:10 p.m. – Hankook Trophy Race 2
8:00 p.m. – Awards ceremony