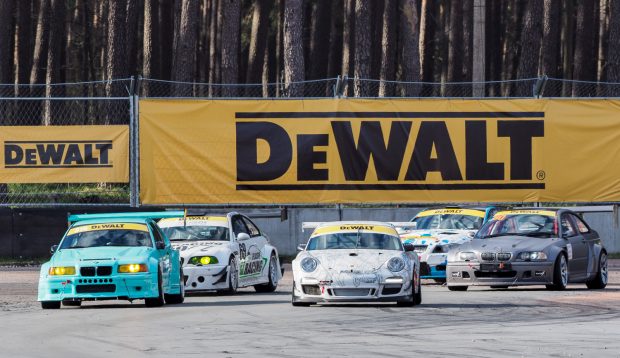 NEZ AND BALTIC TOURING CAR CHAMPIONSHIP SEASON OPENING THIS WEEKEND IN RIGA
Three days from May 11 to 13, Bikernieki racetrack welcomes North European and Baltic Touring Car Championship season opening round "DEWALT Grand Prix". More than 180 Baltic and Scandinavian fastest racers will gather in Riga to go on track and show exciting battles in each Bikernieki turn.
Friday evening season will open North European Zone (NEZ) Championship "BMW Xtreme Cup" and "V1600" classes. For now 17 racers have signed for BMW class and 6 in the "V1600", most of them from Finland and Estonia.
One of the most exhilarating class "Legend Car" will take place on Saturday shortly after the opening ceremony. For the first round we have 17 participants from Latvia, Finland and Russia.
On May 12th, we will see 8 participants with Porsche cars from Finland, Estonia and for the first time also from Lithuania. "Porsche GT3" class will be loud and fast.
NEZ Championship races will close powerful "V8 Thundercar" class, which enjoy the most popularity in Finland, so we will see 9 Finnish racers with Chevrolet Camaro. Last year this class took care of Nascar worthy views on Bikernieki racetrack.
Baltic Championship new season will start on Sunday, May 13th. In the most powerful "Baltic Touring Car" class have signed 21 racers. This class is full of Lithuanians, but among them we will see 6 representatives of Latvia. It should be noticed that in this class after several years will be exclusive Lamborghini Gallardo with a Finnish racer Marko Rantanen.
In total 15 drivers have signed up to three "Hankook Trophy" classes in Baltic Championship. 8 participants will be in the "National Class" including unbeaten Janis Vanks. In "Super 1600" absolute favorite is Estonian Steven Puust, because of the last season wins in all races.
In the first round of the Baltic 4H Endurance Championship have signed really spectacular cars. On the start line will be 19 teams, five of them with world class technique – TCR cars. Lithuanians will try to beat Estonian teams as well as on team from Latvia.
On Sunday among the latest generation sports cars will be historic car serial "Dzintara aplis" with 40 participants. The most complete number of participants is expected in VAZ class. Which means a particularly exciting battles.
Live stream on May 12 and 13 will be on mobile app "LMT Straume", LMT Home Smart TV and online straume.lmt.lv, as well as on TV channel "Sportacentrs.com TV", available on free broadcast throughout Latvia.
Live stream May 12th – http://straume.lmt.lv/lv/motoru-sports/motoru-sports/dewalt-grand-prix-1/1022254
Live stream May 13th – http://straume.lmt.lv/lv/motoru-sports/motoru-sports/dewalt-grand-prix-2/1022257
Tickets to NEZ and Baltic Touring Car Championship opening round "DEWALT Grand Prix" car buy in all "Biļešu Serviss" ticket offices and online at www.bilesuserviss.lv. Weekend ticket – 15 EUR. One day ticket 10 EUR. Car pass – 10 EUR. For kids under 12 years of age, pensioners and persons with some kind or disabilities, with valid certificate, entry for free.
Stay tuned on our Instagram profile "baltictouringcars" and Facebook page "Baltic Touring Car Championship".
Season opening round "DEWALT Grand Prix" titlesponsor "DEWALT", sponsors "Facom", "Porsche Centrs Rīga", "Teknos", "Hankook", support "LIC Gotus", "Latvijas Automobiļu federācija", "Vostok Europe", "Jacob's Creek", "Mangaļi" and "GRIFS AG". Livestream from racetrack provides "LMT Straume", informative support "Delfi", "Star FM", magazine "Klubs" and "Sportacentrs.com".