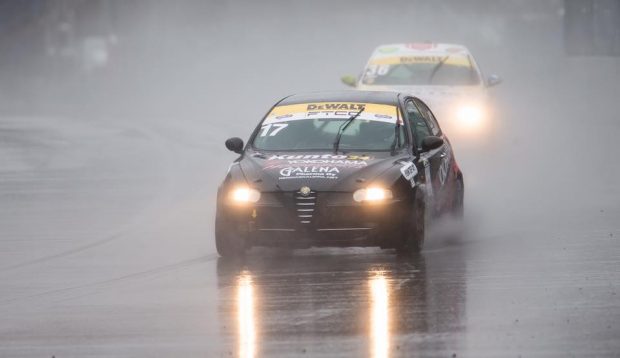 LINDA VEKKA: RIGA HAS A GOOD SPIRIT AND THE TRACK IS AWESOME
Linda Vekka is a talented young V1600 class racer from Finland. She was a part of a very eventful two races last year in Riga. She enjoyed her race weekend in 2017, this year she is coming  to fight for the podium. Here is a short interview with Linda Vekka.

 

 

Last year, for the first time you visited Riga and Bikernieki racetrack. What do you think of the city and of the track? How does it compare to Finnish tracks?

Actually, we visited there for the first time at fall 2016. We're watching BaTCC final race, because we already knew that we would have a race there next summer. So we already knew something about BaTCC and the track when we finally got a chance to race there.
Bikernieki is my favorite track – if we forget what happened in the races. It isn't anything like our tracks in Finland, maybe it could be some kind of blend from Ahvenisto, Seinäjoki and Kemora. The track was so fast that I woke up and realized how a fast car Alfa really was. It was an amazing feeling.
I liked the location too. It was easy to find a hotel nearby the track. Also we visited a local bakery to get something for breakfast. All in all I liked both of them, the track and the city.

What are your aims for the Riga event and for the whole Finland and NEZ V1600 season?

We have a new car, Toyota Yaris. It's 2017 championship car so now it's all about the driver. But she's in a good shape. We have had lots of practice at the winter with Alfa Romeo. Yaris gets on the track when the snow has melted. Our aims are as high as possible, in Top3 at NEZ and in Top7 at Finnish Championship.

Why would you recommend other drivers to come to Riga, what is the special essence?

Riga has a good spirit and the track is awesome, that's why they should come. I think that all V1600-drivers would love the track because it gives you so different feeling about your car.

How would you describe V1600 class, a stepping stone for young racers from karting to circuit racing?

It's a cheap class, you can drive a whole season with 5 000-10 000€ budget in Finland. There is lots of racers and everyone can find someone to race with. Also, in the paddock we have a good spirit and we help each other. It's a easy way to learn how to drive a car and then jump in the bigger class.