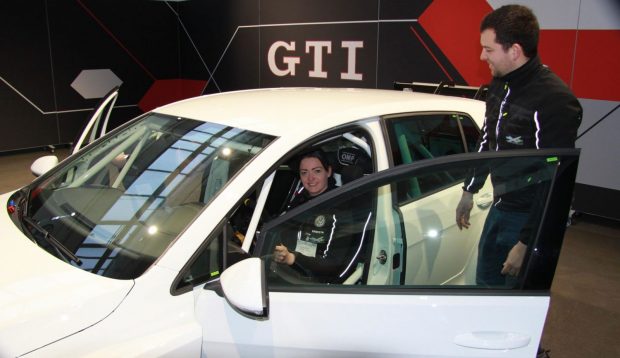 GSR MOTORSPORT READY FOR THE NEW SEASON WITH A BRAND NEW VW GOLF GTI TCR
Almost a year ago, everyone's attention was driven to the brand new first in Baltic countries "VW Golf GTI TCR" landing in Lithuania. This season "GSR Motorsport" team strikes again and after selling the "VW Golf" they had before, team has bought a brand new TCR type car from VW manufacturer. By the way, the "GSR Motorsport" "VW Golf" was not sold too far away: it is basically staying under the same roof.
During the last season, much more car manufacturers started producing TCR type racing cars. So, it becomes really interesting why "GSR Motorsport" team have bought another brand new vehicle from the same manufacturer for the next season. Here's a short interview with a teams' racing driver and representative Ernesta Globyte.
Last year you had a "VW Golf", now – it is a "Golf" again. Was it a plan like that all along?
In any scenario we had, the aim was to buy a TCR type car and to offer the test programme for those, who are interested in this class of cars. Although, we had a plan all along to help those, who has the TCR already but they do need assistance in adjusting the car or if they need help in preparing the car for the races, analysing the data from the car or even wanted to offer the spare parts for the participants during the race. It happens that "GSR motorsport" team has the most experience with this type of cars in Baltic countries at the moment.
Why did you sell the "VW Golf" you had only after one season of racing?
There was no necessity to sell the "old-new" "Golf". Actually, I was and still am really satisfied with this car. However, we really wanted to increase the number of the TCR cars in Baltic region. So we actually thought that it would be easier for individuals willing to buy a TCR type to get a car that he (or she) already saw racing and knows people they are buying from. We have assumed that if you buy a racing car, knowing the history of the car it is really important as well as possibility to see the car alive, not the pictures only along with videos. Actually, we were quite right and our "VW Golf" was sold really quickly.
How did it happen that you have bought the TCR car from the same manufacturer? Have you considered other cars?
Yes, of course we have considered other options, like "Audi", "Seat", "Hyundai". However, after analysis of all the main determinant factors, like how quick it is, how does it work with a spare parts (ordering and how fast you can get them), how manufacturer representatives communicate with you or the support of the engineering department as well as the constant improvements, we have decided to go with "VW Golf" once again. What is more, during the last season this model was the best among the others in TCR car manufactures competition. Basically, it is simple: if you want to be the best, you go with the best.
Can you tell us already who bought your previous car?
Our car was bought by "Energizer racing" team. So, we plan an active testing programme including guys from "Energizer racing" team.
Once again, starting new year with a brand new technique, what is the plan for this season? Where are we going to see your car racing?
At the moment we plan to participate in "Baltic Endurace Championship – 4H", "Baltic Touring Cars Championship" series and 1000 km race in Palanga. Of course, we still have a plan to make a strong team of drivers and to show up in 24 hours race event.
As far as we understood, the composition of the team for this season is not clear yet?
Not yet. At the moment, I cannot tell who is going to be my partner in Endurance race. According to our plan, as soon as the weather conditions will allow, we are planning to organise the practise and tests season where we could practically see the abilities of each driver willing to become the part of the team.
Going back to your new car: how does it differ from the model you had previously?
New model is faster in straights, the aerodynamics is better. The position of splitter has changed: it has moved a little bit to the front. Also, the height of spoiler has changed as well as the characteristics of the limited slip differential. Now we are going to have more abilities to adjust it and it is really important for this type of cars. Also, the power steering program was changed and the front whishbone was modified.
How do you think, is it going to be tuff to get used to it?
I don't think it will be hard and it will take a long time. Actually, already when I sat in my car I felt like "at home".
Are there any other changes in "GSR Motorsport" team this season?
In circuit racing, we are going to have three different teams representing the "GSR Motorsport" and three cars – different team names only. Also, we have two crews in Lithuanian rally championship and two crews in Lithuanian rally-sprint championship. We are really glad that "GSR Motorsport" team is constantly growing and improving in all means.