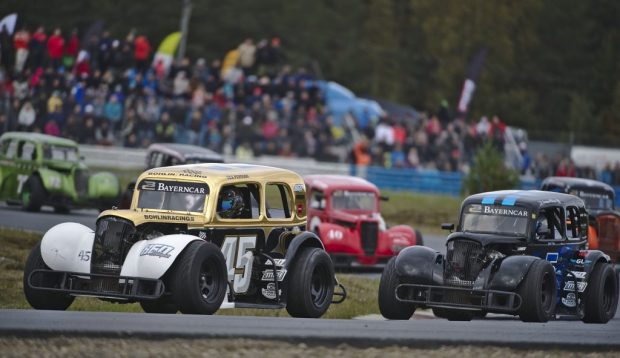 A DRAMATIC LEGEND WORLD FINALS WEEKEND – PRO CLASS VICTORY TO SWEDEN FOR THE THIRD TIME
World Legends Final were raced on 16-17 th of September at Botniaring raceway Finland. Philip Miemois, Pekka Lehtola, Lauri Riekkola and Swedish Emil Persson were nominated as the best Legend car drivers in the world.
The final of the Pro class with fastest drivers was the most dramatic final in a while. Irishman Jordan O'Brien's car went in flames after the last corner and the man crossed the finishing line with the whole car covered in flames. O'Brien got some burns in his face but was luckily otherwise unharmed after the incident.
Swedish Emil Persson drove into his third World title in a row in spite of heavy competition from the Finnish drivers.
"It is unbeleavable. The team did an awesome job on the car. It was a very tight final, toughest one yet. It is nice to beat the Finns on their home terf, was great to drive here today," said the happy Swede.
Semi-Pro final was also full of events as the results changed even after the final was over. Antti Rantala from Seinäjoki crossed the finishing line first but got a five second penalty afterwards for forcing a fellow driver off the track. After Rantala's penalty the champion in Semi-Pro became Philip Miemois who is driving his first season with Legend cars.
Masters class new champion was Pekka Lehtola. Golden Masters had a change of champion after the race as well and Lauri Riekkola became the champion when Markku Luhtala was disqualified.
Legend cars road course World Finals was driven outside the United States for the first time in history and according to uncertified information this was the first road course world championship race ever driven in Finland.
Four Latvian drivers who were participating in the Wrold Finals for the first time showed following results: both Semi-pro class drivers Valters Zviedris and Garijs Rožkalns showed great results and finished 4th and 5th. Jānis Horeliks was 7th in the Masters class while Uldis Timaks was not so lucky in his first World finals and finished 21st in Pro class.
Jordan O'Brien's car on fire in the finish:
RESULTS:
Semi-Pro
Philip Miemois 15:15.763
Joonas Vartiainen +0.409
Antti Rantala +4.682
Masters
Pekka Lehtola 15:19.486
Miikka Riihimaa +0.269
Kari Koivisto +3.178
Golden Masters
Lauri Riekkola 15:31.686
Richard Van Heerde +1.399
Jukka Nisula +2.526
Pro
Emil Persson 15:06.984
Jesse Vartiainen +0.175
Veli-Pekka Karttunen +0.937
Photo author:SpeedPix.ch
Article: http://www.aprcompetition.fi