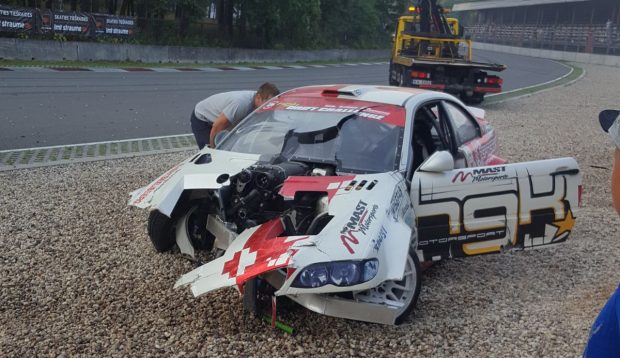 DRIFT PILOT KRISTAPS BLUŠS CRASHES DURING PRACTICE SESSION; DRIFT SHOW WILL TAKE PLACE AS PLANNED
In the afternoon of August 18, HGK Racing Team drift pilot Kristaps Blušs crashed his 1000 Hp drift car while he was having training sessions before the weekend drift show during "ENEOS Riga Summer Race" festival.
The crash took place in the Oak turn and the car landed in the concrete wall of the track. The driver was getting ready to set the drift speed record in the Oak turn of Bikernieki racetrack.
"The speed of the car was very high, the run was done on the limit of the risk. We can confirm that the driver is feeling good and the drift show will take place as planned. Kristaps Blušs will drive with another drift car," told Andis Meilands, organizer of the race.
"Regardless of the incident during training sessions, I am still ready to set the drift speed record! See you in the track tomorrow," to his fans promises Kristaps Blušs.
Drift show "DRIFT KING OF SPEED" will take place on both days of the ENEOS Riga Summer Race" event:
Saturday, 19th of August, 2 p.m.
Sunday, 20th of August, 12 p.m.
More info about the event HERE.