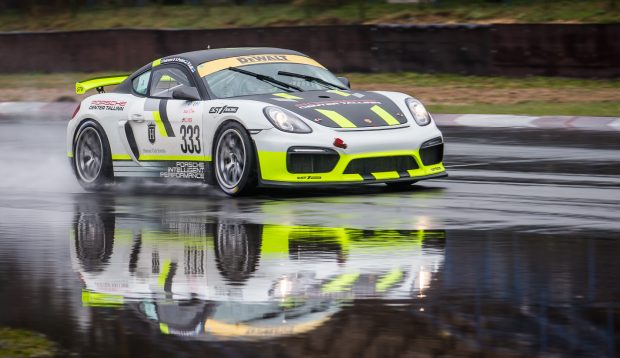 RAIMO KULLI: YOUR MISTAKE IS A MISTAKE AND EVEN RETIREMENT FOR THE WHOLE TEAM
From 19-20th of August 22 BEC4H teams will line-up for ENEOS Riga Summer Race, in Riga, Bikernieki racetrack. One of the favorites for the event victory is Estonian team Est1 Racing which will participate in squad – Raimo Kulli, Sten Pentus, Thomas Padovani and Jukka Honkavuori. Before the weekend race we had a chance to talk with Raimo Kulli.
Est 1 Racing is participating this season in BEC4H series, where you hold after three rounds the fifth place. Where came the idea to participate in this series?
R.K.: As we got in to our team Porsche Cayman GT4 that is built for endurance racing, then we were looking for a series in our region and that´s where it all started.
 
As you already mentioned Est 1 Racing team's car is Porsche Cayman GT4. What team have built it and what is the history of that car?
R.K.: We got this car from the team Levin Racing who got it brand new from Porche Motorsport. They ran it in endurance races, included 24H Series where we are now going with it.
Names like Raimo Kulli and Sten Pentus are familiar for every Baltic circuit racing fan. How did you put together this year's team?
R.K.: As me and Sten are friends for a very long time and we have raced together and done some co-operation then it was decided pretty fast. Our team has combined so that there should be one equal and fast team, so we can achieve maximum result.
You all have been individual race drivers. How big is the change for every one of you when you have to race for a team?
R.K.: Biggest difference is that in individual races we all have done so called sprints, races between 20-30 minutes. But now you have to race minimum for an hour and you have to think more about saving tires and not always to take all the risks to pass someone. Your mistake means mistake and maybe even retirement for the whole team.
 
Have you ever talked about how many titles you all together have?
R.K.: No. I think this number is not very important for drivers. We all have other values and besides your results does not always  shows your real potential.
At theBEC4H  first race of the season Est 1 Racing where in lead, but at the end you lost because fuel ran out. What are teams this time goal?
R.K.: Before fuel ran out we were in a pretty comfort lead and without that incident we have won. This time the goal is to correct mistake and win!
 
Misfortune of the first race and not racing in Palanga means that BEC4H title is already gone. Or is it?
R.K.: Basically yes the title has gone for us. To win it we need to be fast and competitiors has to have some bad luck. But we will take race by race and will see after the Riga Summer Race what the results table show.
Last year some of you got  in Brno their first 24H race  experience. How different it was compared to races you used to done before that?
R.K.: Yes, no one from our team had never raced 24H race before. Hardest was lack of experience and knowing that am I doing everything right and do I loose with my driving positions or not.
This year Est 1 Racing is going to 24H Series, Barcelona event. Have all your team members (Sten Pentus, Thomas Padovani, Jukka Honkavuori and Keijo Kaasik) has 24 hour race experience?
R.K.: I know me and Thomas have, but to be honest I don't know about the others.
What is the goal for Barcelona 24 hour race?
R.K.: Our team goal in Barcelona is to be as fast as possible and to finish. Hopefully in podium place.
Have you already thought of next year's plans?
R.K.: No not jet. The season has been very busy and lets end this year and then let's see what happens next year.