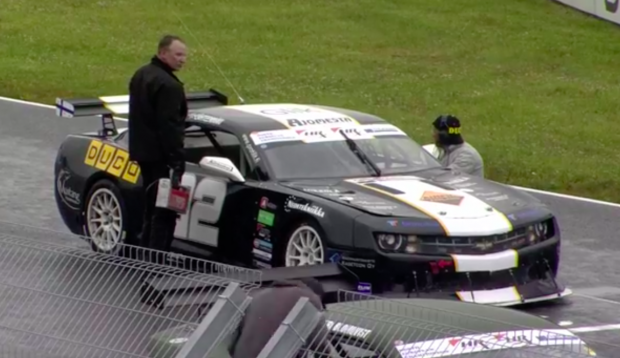 WET ESTONIAN CHALLENGE KICKS OFF IN PARNU
The second round of North European Zone Championship is about to start after the wet practice and qualifying sessions on June 30th in auto24ring, Parnu. In 5 NEZ classes in Estonian Grand Prix will participate 99 drivers from Estonia, Finland, Sweden, Latvia, Lithuania and Russia.
Porsche GT3 Cup Jussi Kusiniemi showed the best lap time 1:21,18 in the practice session while Lithuanian Jonas Gelžinis won the qualifying with best lap 1:23.55, 1.1 seconds slower was season leader Jussi Kusiniemi. Third in the qulifying session was Roope Rinne Laturi. Homeowners Raimo Kulli took the 5th and Oliver Tiirmaa 8th position for tomorrows Race 1.
From 13 V8 Thundercars the fastest both in practice and qualifying was Emma Kimilainen with the best lap time 1:25.68. Second position for Race 1 took Petri Blomqvist while Toni Lahteenmaki was 3rd. Season leader Jari Nurminen was the 5th fastest during qualifying.
Legend Cars spent the training sessions and qualifying in two groups. As expected the lap times were tight. Best lap times were set by Finnish drivers. Good performance showed and the best lap time in qualifying set Pekka Seppanen, he also took the pole position for Race 1. Only 0.02 seconds slower was Markku Yliaho while P3 takes Marko Kilpia. Highest position – 9th – from Latvian drivers took Uldis Timaks.
V1600 class pole position won Simo Rauhala with lap time 1:44.20, second was Rasmus Tuominen, third Nathayos Sirigaya.
BMW Xtreme from 23 participants best ir Q1 was Kren Tunder followed by Andre Kiil and Peep Peeterson.
First race for V8 Thunder Class:
R1 for Thunder was the first and only was taking part in the evening of June 30th. Emma Kimilainen took the leading position in the first laps until Jari Nurminen who started from P5 overtook her during lap 4. Right after that both had a contact and Jari Nurminen had a spin after which his car was left staying at the side of the track. Emma Kimilainen was back in the leading position until few laps before finish she slipped out of the track and all the leader group drivers overtook her. Victory in the first race took Toni Lahtenmaki, second place took Juha Mikkonen, but in the 3rd place the finish reached Petri Blomquist.
V8 Thunder Race 1: