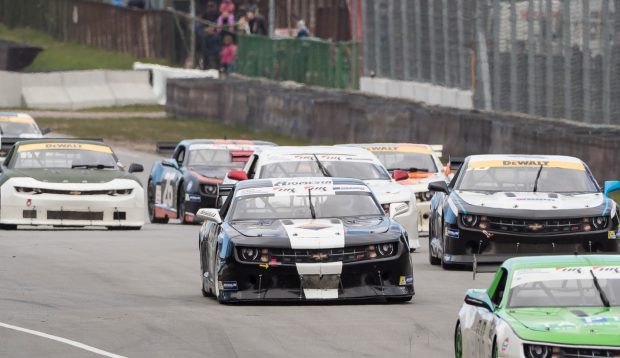 NORTH EUROPEAN ZONE CHAMPIONSHIP FINISHES WITH COLLISIONS AND INTRIGUES TO THE FINISH LINE
The second day of NEZ and Baltic Touring Car Championship season opening was truly exciting. Wet conditions in the track was changed to dry and NEZ classes could show higher speeds in Bikernieki racetrack.
Third NEZ "Legend Car" class race was thrilling. Latvian fans in tribunes and on livestream kept up with Martins Steinerts fight with leaders for second place. Only in last lap Steinerts lost the second position and ended the race in fourth place. In leader group throughout the race was another Latvian Uldis Timaks. In last race and also in overall first place won Finn Mathias Herten, second was Marko Kilpia and third – Johan Ahokas. Latvian drivers M. Steinerts won 7th place overall, but right behind him – 8th was Uldis Timaks.
North European Zone "Porsche GT3 CUP" second day on start grid from eight cars went seven. First few minutes each of the racers took their positions and battle for places did not happen until Rope Rinne-Laturi made a mistake and slipped out of the track in half way to finish so he lost his second position. But he was able to react quickly and returned to track in fifth position. During the time Rinne with his skills, speed and team member assistance was back in second position, but the leader was too far to catch. Thus, the second race won Jusi Kusiniemi and third was Raimo Niemi.
Beautiful race in dry Bikernieki racetrack showed NEZ V8 Thundercar class who demonstrated great speed and powerful battles. First tension momens was right after the start, where Toni Lahtenmaki and Anti Punkari cars faced, but luckily no one else was involved in the collision. From the very beginning Henri Tuomaala took the leader position and won the first place. Second position took first race winner Jari Nurminen, third also in second race was Ian Eric Waden. The only Latvian racer Toms Bērziņš was more succesful on the second day and finished in the ninth place.
One of the most exciting races was demonstrated by NEZ V1600 class drivers. Only two cars of six was able to cross the finish line. From the beginning Mirella Nurminen-Mikkonen was far from the other racers, but in last lap Nora Lahtenmaki was right behind her, but this time Mirella turned out to be better. An intriguing battle was also for other two positions, when Eric Sepanen wanted to overtake the competitor and did not see Jaako Louhi and as a result there was a collision and both of them finished the race out of the track. Simone Viidas in both racing days was not be able to control her car. First day she slipped out of the track, but on the  second day she demonstrated an impressive jump across safety rampart after the last corner.
Also in the second day there was 45 minute endurance race from "BMW Xtream" class. Overall standings after first event: 1st place Andre Kiil, second place Markus Gonthal/Tomo Gronthal, third place Kren Tunder.
All race reviews you can watch HERE.