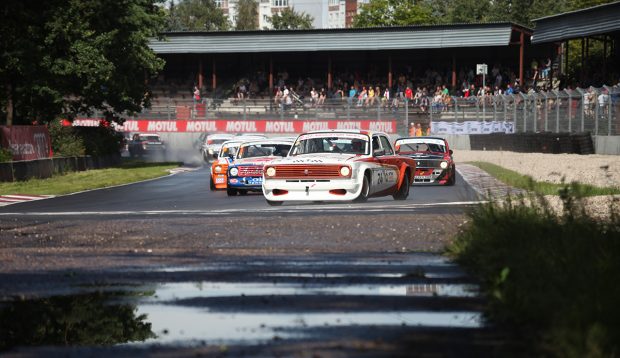 HISTORIC RACING SERIES DZINTARA APLIS SEASON OPENING ON MAY 1
Together with North European Zone and Baltic Touring Car Championship season will open also historic car series "Dzintara aplis" members. This will be already eighth season for them and over the years the number of participants from just under 20 has risen to more than 50 and continues to grow.
"Historic car movement not only in Latvia but throughout the Baltics and Eastern European region still continues to develop and grow. This year in "Dzintara aplis" will join a number of young racers from Latvia and abroad. We will see also Friendship Cup, that brings together the most active racers from all over Eastern Europe", says Mārtiņš Lagzdiņš, "Dzintara aplis" participant and curator.
This season "Dzintara aplis" will be held together with Latvian and Baltic Touring Car Championship. In this season is planned to have five rounds, three of them in Bikernieki racetrack and remaining two in Pärnu, auto24ring.
Season opening round on May 1st is going to start with six car classes: Volga, Volga 406, VAZ 1300, VAZ 1600, Formula Mondial, Formula Easter. For champion title in this year will compete Volga, VAZ 1300 and 1600, Formula Mondial class members, while the rest of the classes will compete in  cup statuss. We will see also the only Latvian Moskvich car with Andris Djačenko at the wheel.
"To VAZ classes joins 4 new racers from Latvia, we expect participant from Lithuania and one new racer from Ukraine. Formula Easter leader Andris Griķis in this year moves on to the most powerful Formula Mondial class where he will bring competition for Latvian champion title to Estonian champion Jaak Kuul. Volga 406 is a new class in this year, that is set up with aim to interest Russian racers to join "Dzintara aplis", because participants in Russia have sightly more different technical regulations" news before season reveals Mārtiņš Lagzdiņš.
International Friendship Cup this year will take place in two rounds – Moscow and Riga. In Moscow from June 10th to 12th, Moscow Raceway and the second round in Bikernieki racetrack from August 19th to 20th together with "Riga Summer Race". It is expected that there will be a lot of participants from Russia and other countries.