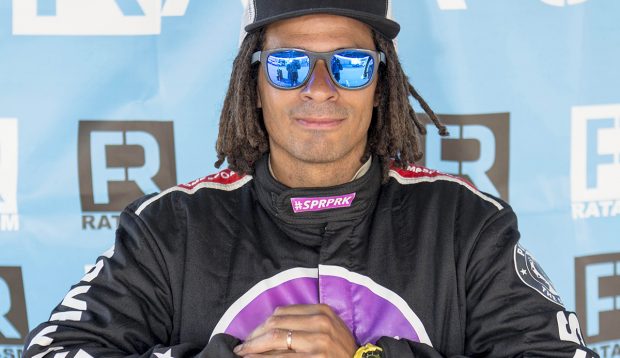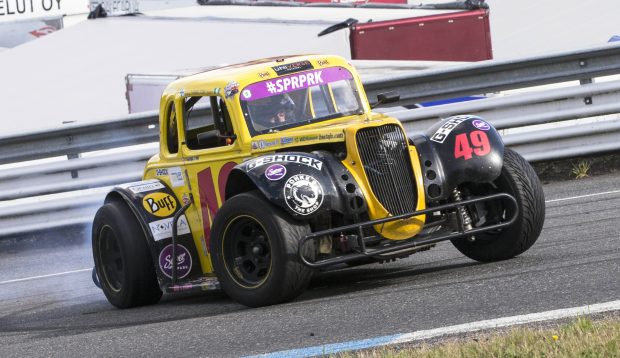 LEGEND CAR DRIVER ALEKSI HALEN: MY GOAL IS TO BECOME THE NEZ CHAMPION
One of the most charismatic drivers in the Legend Car service park is Aleksi Halen or Hamilton how fans and friends calls the Finnish Legend Car driver. In 2016 he took the 3rd place overall in the NEZ Legend Car Championship showing great driving. This season  he will be back with one goal – to take home the NEZ Champion title. In the end of April we will see him racing in Bikernieki racetrack in Riga.
You are well known in the paddock for your fan club. How did it all start and do you have some nice short story regarding fans?
It all started with Legends cars in 2009. But I started racing in 1986 when I was six years old. I started with gokarts, then advanced to superkarts and then to Endurance racing BMW, stock touring cars in Finland. But the Legends cars is one of the best series in the world so we started racing there in 2009. Of course, my motto – racing is for the fans. Because it's all about the fans, have a good show for the people who have come to see some racing. That's very important for me. I hope, fans also love me. Because I love them so much! That's why whenever I am racing, I want to make a good show for the spectators. That's what you gonna see also for this year! Couple of my fans are also coming to Riga, so no problemo!
Last year you visited Riga for the first time. How can you describe the track from Legends drivers point of view? Which corners are the key points for a good lap time?
Last year we came for the first time to Bikernieki racetrack in Riga. And I have to say, it's amazing! I love it! You have to have very good car in Riga, good engine and good setup for the car. Your mechanics have to do a lot of work to have a perfect car because average speed here is so high. Everything has to be perfect. There are couple of corners. One is the back corner, fast left corner (The Bridge) when you are coming to the old track in the forest. That is the key corner, you have to make it right! And also couple of corners before start finish straight, if you brake enough there and have a perfect line there, you will have a good speed coming to the straight. These are the key moments for Bikernieki track. Track is awesome and we love it a lot!
We believe your aim is to be the NEZ champion in 2017. Which competitors will be your biggest rivals for the title?
Of course my main goal is to become the NEZ champion. Last year I was third in the standings. I had a problem with my car at the last event in Ahvenisto, Finland. This year we are going to make our car a little bit better. I hope the title trophy will have my name in 2017. Of course, my competitors are very good. Finnish guy Mathias Herten is one of the best in Finland. And also one of the fastest guys will be Miikka Riihimaa, #13, Finland. He is very good driver. Last year he set one of the best lap times in Riga. We have talked a lot about being fast. I am a driving coach for Miikka. I hope he will be in TOP3 in Riga. Of course, straight from Latvia, Uldis Timaks is one of the best over there. I love it. I love the man, love the spirit. And also Konstantins Calko, very good driver. So, Herten, Riihimaa, of course Marko Kilpia also is very good if he is going to drive whole series, Timaks and Calko.
Three reasons why to race Legends cars?
I can tell you a lot of reasons why to race legends cars. They are fast, loud and good looking. And, hey, girls like it! You have to drive the car that girls like. It's one of the best series in the world with best drivers in the world. It's the key point – you are competing against best racers in the world. That is the reason why we love to drive Legends cars. It's cheap, you don't have to spend so much money, very important!
What do you do outside racing?
The family is very important to me and I spend a lot of time with my family. I have five years old daughter and seven years old son. And, of course, one beautiful wife. My boy is racing motocross, I also race it. Motocross is my other passion. I also play ice hockey, tennis and golf. I have to do lot of work. I work in the entertainment. I am one of the announcers in Finland, announcing motorsport events, some fairs and other kind of events. That's what I do. I also work as a DJ and producing activities for other companies. I do a lot of different things. But my passion is racing. But the main thing – I love my family. I am a family man.