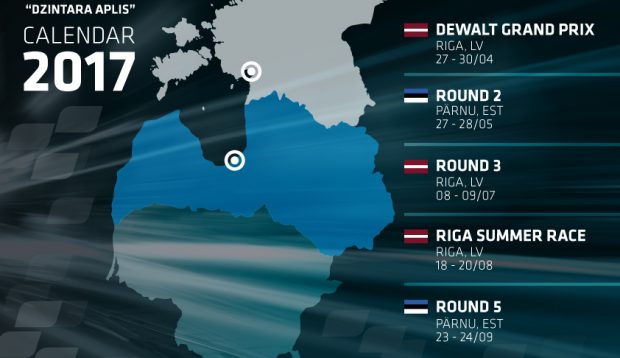 ANNOUNCED BATCC AND BEC 4H SEASON CALENDAR FOR 2017
We are happy to announce the Baltic Touring Car Championship (BaTCC) and Baltic 4h Endurance Championship (BEC 4H) event calendar for season 2017!
BaTCC will consist of 4 rounds comparing to 5 rounds in season 2016. 2 of the events will take place in Riga (Bikernieki racetrack) – the grand season opening round on April 29 – May 1 "DeWalt Grand Prix" and the traditional "Riga Summer Race" round on August 18-20.
The second and fourth round of BaTCC  (May 27 – 28 and September 23-24) will take place in auto24ring, Estonia.
Baltic 4h Endurance Championship will consist of 5 rounds and the season will begin in "Dewalt Grand Prix" round in Riga. Next round will take place in Estonia, together with BaTCC 2nd event. 3rd round as usual will be the challenging ENEOS 1006km race in Palanga. Endurance season will end up together with "Pärnu 1000km race" and  BaTCC round in Parnu, auto24ring, in the end of September.
Latvian Touring Car Championship will have an additional round in Riga on July 9 and 10 together with the historic series "Dzintra aplis" participats.
BaTCC event calendar for 2017:
Round 1 – DeWalt Grand Prix 2017, Riga, April 29 –  May 1
Round 2 – auto23ring, Parnu, May 27-28
Round 3 – Riga Summer Race, Riga, August 18-20
Round 4 – auto24ring, Parnu, September 23-24
BEC 4H event calendar for 2017:
Round 1 – DeWalt Grand Prix 2017, Riga, April 29 –  May 1
Round 2 – auto24ring, Parnu, May 27-28
Round 3 – ENEOS 1006km, Palanga, July 20 – 23
Round 4 – Riga Summer Race, Riga, August 18-20
Round 5 – auto24ring, Parnu, September 23-24