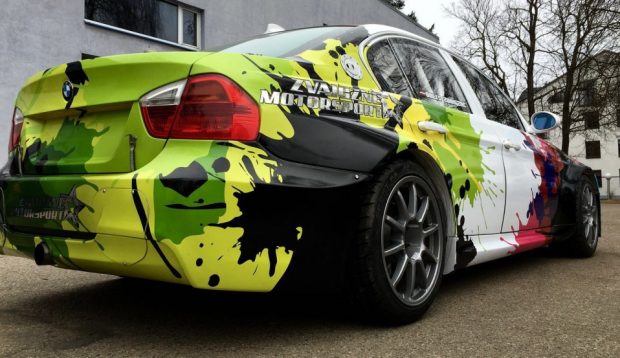 ZVAIGZNE MOTORSPORT: "WE AIM FOR THE HIGHEST PLACES!"
"Zvaigzne Motorsport" racing team will participate in all events of "Baltic Endurance Championship" in 2016. The team has built a BMW E90 according to Diesel class regulations and is ready to fight for top podium places.
"3.0 liter stock turbo diesel. We have to thank HGK Racing team for chassis, it has some major improvements comparing to stock chassis. The gearbox is from car's street version," Valts Zvaigzne, driver and manager of the team, introduces his race horse. Valts is an experienced karting and rally driver.
Valts also has some experience in circuit racing. "Several years ago I participated in endurance races in "Kalkis Motorsport" team. I have always wanted to try numerous autosport categories and circuit racing has been close to my heart since karting days. My family helped me to make the decisive step, and step by step we have finished our latest project."
Valts has won Palanga and Riga 1000 km races in 2010 in A1600 class. Last year he participated also in one Legends race. Valts has achieved multiple wins in rally-sprint races in the last few years. Wins and podiums characterizes the racing pilot's determination. It's the same for this season.
"Our aims are the highest. Because if you don't have clear target to fight for the win, then I don't see the purpose of racing! We not only want to win in Diesel class but also fight for the overall win. We understand that in 1000 km race it will be much harder, but it is not impossible," Zvaigzne Motorsport is full of determination. "Of course, the Lithuanian teams are very fast and strong but you don't have to be afraid – it is endurance racing where many factors influence the final result."
Valts keeps the intrigue alive about driver lineup: "We more or less know our lineup, but lets keep it a secret for a while. When racing comes closer, we'll let you know." Team manager's response makes us think that there may be some interesting surprises.
Last year ambitious "Flash Racing", another Latvian racing team in Diesel class, participated in all events and acquired a lot of experience. Do you consider them as archrivals or friends in battles against Lithuanian teams? "We know that "Flash Racing" is building new car. If we compare to Latvian teams, then they are our main rivals, but if we are talking about overall racing – we will see!"
"Baltic Endurance Championship" starts April 30 in Parnu.